Laemmle's Art in the Arthouse is proud to announce our newest exhibit, TRIMBLED, showcasing the works of artist SCOTT TRIMBLE. The show appears at the Royal Theatre through May 2017.
Curated by Joshua Elias, the exhibit features gestural oil paintings that tap into the psyche of the artist – and the world at large – in an arresting and provocative manner.  Trimble's unique application of color is also fascinating to behold.  Don't miss seeing Trimbled in person!
Join us for the artist reception:
Laemmle Royal
Thursday, March 30, 7-9pm
RSVP HERE
About the Exhibit:
Based in Hermosa Beach, S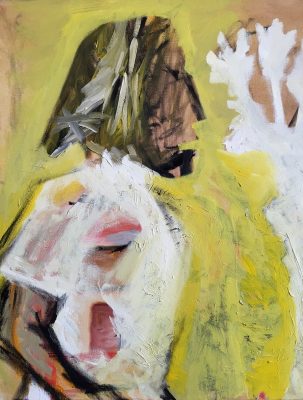 COTT TRIMBLE is a graduate of USC's School of Cinema and Television where he focused on film history and criticism. He now creates psychological portraits in oil.
A Trimble Game: Walk down the aisle and take in each of Trimble's paintings. Read the titles of each painting aloud to your self and move on. Then double back.
You will not be the same person. Moved through movement, visual richness, and a distinct phraseology you will be lent a hand, a journey, and a lens from the vantage point of the artist.
This is an experiential show – a blur inside a whir. It is a period in time where nothing makes sense. The paintings fragments are held together through poetic phrases, animated beings, cagey, sometimes frightened figures, not so carefully fielding their steps across a landscape within a room.
Rife with contradiction, each work is a navigation in an unnavigable urban setting. This noir mise-en-scene is a political horror house, where an implausible arm of a figure is reaching around the corners searching for the edge. Grappling for significance, in a world of continual motion, Trimble's paintings offer a soulful rope to the long climb ahead.
– Joshua Elias, Curator
---
Critical Review for Scott Trimble:
Shana Nys Dambrot writing for the Huffington Post