FREE SCREENING – SUNDAY, DECEMBER 11 at 10 am. Director MARIA SCHRADER in person. RSVP: SashaBerman@mac.com.
STEFAN ZWEIG: FAREWELL TO EUROPE, Austria's Official Entry for the Best Foreign Language Film – 89th Academy Awards®, was written and directed by Maria Schrader (one of Germany's most acclaimed actresses, best known for her award-winning lead role in "Aimee & Jaguar" and for her lead role in the Emmy-winning TV series "Deutschland 83").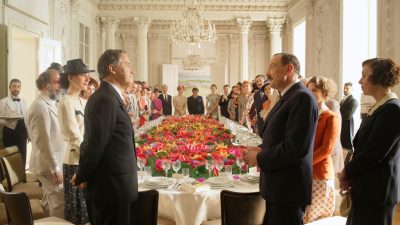 The film episodically tells the story of the Austrian Jewish writer Stefan Zweig and his life while in exile from 1936 to 1942. Best known in the U.S. for his novellas "The Royal Game" and "Letter from an Unknown Woman," that was later adapted into a film directed by Max Ophüls, starring Joan Fontaine. His writings have also inspired Wes Anderson's "Grand Budapest Hotel."
Stefan Zweig (next to Thomas Mann) was the most-translated German-speaking writer of his time, but having been driven into emigration at the peak of his worldwide fame, Zweig falls into despair at the sight of Europe's downfall, which he had anticipated early on. Rio de Janeiro, Buenos Aires, New York, Petrópolis are four stations in Stefan Zweig's exile, which despite offering him safe refuge and overwhelming tropical nature, won't help him find peace and won't be able to replace his home.
STEFAN ZWEIG: FAREWELL TO EUROPE is the story of a refugee, a tale of losing one's home and of the search for a new one. It is a visually stunning historic picture about a great artist and, at the same time, a film about a time in which Europe was coming apart.