UPDATED 6/3/2016: Azusa City Council to RECONSIDER the Laemmle Theatre Mixed-Use project for Block 36 on Monday, June 6th at 7PM! Click here for details.
ONE FINAL UPDATE: Unfortunately, the Azusa City Council did NOT select our project for Downtown Azusa.
Sincere thanks to everyone who took the time to speak and email. The overwhelming display of public support at the council meeting warmed our little lamb hearts. We appreciate all of you. <3 <3 <3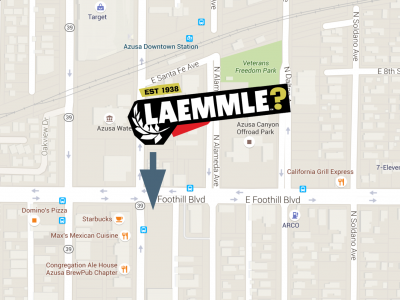 UPDATE: On Monday, May 16th at 7:30PM the Azusa City Council is scheduled to vote on our proposal to build a new movie theater in Downtown Azusa and we hope you'll support us by speaking at the meeting! Click here for details.
Our proposal to build a movie theater in Downtown Azusa has been selected as a finalist by the Azusa City Council!
In November, the City of Azusa requested proposals for a mixed use development opportunity on the southeast corner of East Foothill Boulevard and North Azusa Avenue in Downtown Azusa (referred to as "Block 36"). Our project was selected as one of two finalists in this process!
Our proposal includes a five screen movie theater (with programming similar to our Pasadena venue), 108 residential units, retail/restaurant space, and an outdoor plaza. It is estimated that our theater will draw approximately 75,000 people per year to Downtown Azusa.
Public support and outreach for the project and at upcoming City Council meetings is critical. You can help by emailing Azusa Councilmembers in advance so they have written evidence that the community supports this project. Please email them before their next meeting on May 2nd. Here are their email addresses:
Mayor Joseph Romero Rocha – jrocha@ci.azusa.ca.us
Mayor Pro Tem Angel A. Carrillo – acarillo@ci.azusa.ca.us
Council Member Edward J. Alvarez – ealvarez@ci.azusa.ca.us
Council Member Robert Gonzales – robertgonzales@ci.azusa.ca.us
Council Member Uriel E. Macias – umacias@ci.azusa.ca.us
City Manager Troy Butzlaff – tbutzlaff@ci.azusa.ca.us
Thanks for your support!