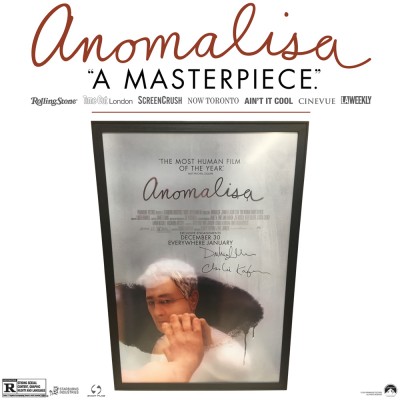 ANOMALISA, the latest from Charlie Kaufman (Being John Malkovich, Eternal Sunshine of the Spotless Mind) opens January 7th in Pasadena and later this month in Claremont and NoHo! We're excited to offer our customers a chance to win an ANOMALISA poster signed by filmmakers Charlie Kaufman and Duke Johnson (Moral Orel, Frankenhole).
For ANOMALISA tickets and showtimes, click here.
Enter to win the signed poster using the form below (no purchase necessary). The more tasks you complete, the more you help us spread the word about the film, and the more chances you have to win. The winner will be selected at random and announced on February 1st. Special thanks to Paramount Pictures for making this contest possible!
Win an ANOMALISA poster signed by Charlie Kaufman and Duke Johnson

ANOMALISA is the tender and absurdly humorous story of a man crippled by the mundanity of his life. He discovers a possible escape from his desperation in the form of an unassuming sales rep who may or may not be the love of his life. ANOMALISA features the voices of Jennifer Jason Leigh, Tom Noonan, and David Thewlis. Its stirring strings-based score by Carter Burwell.