The weekend of June 19-20 we are very pleased to be opening Oeke Hoogendijk's epic documentary The New Rijksmuseum at the Royal, Playhouse 7 and Claremont 5. Originally presented as four television episodes over four hours, this version had its world premiere to great acclaim in New York City last year. The filmmakers have now created a 131 minute theatrical version which won the Beeld ed Geluid Award at IDFA for Best Dutch Documentary in November 2014.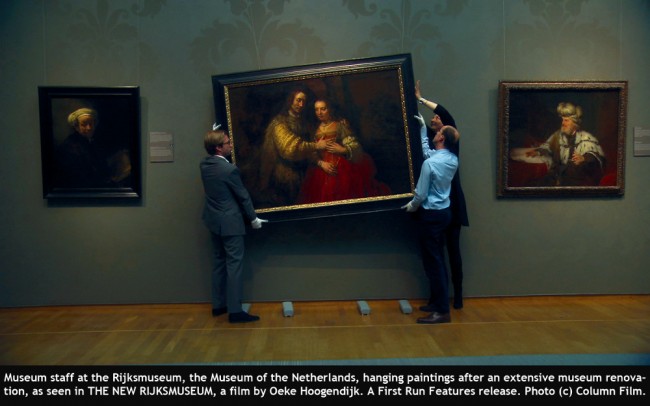 In 2003, the ambitious renovation of the Rijksmuseum in Amsterdam began. One of the world's preeminent art institutions and home to a glorious collection including masterpieces by Rembrandt and Vermeer, the museum was scheduled to re-open its doors in 2008. But, from the start the project was opposed by unyielding bureaucratic forces and public resistance and the landmark was slowly transformed into a seemingly perpetual construction site. The museum's director Ronald de Leeuw, and his successor, Wim Pijbes, battled with politicians, designers, curators and the Dutch Cyclists Union as they endeavored to re-open the museum and put its massive collection back on display. Five years late and costs exceeding $500 million, the museum reopened in 2013.
Filmmaker Magazine published this short interview with the The New Rijksmuseum filmmaker about the decade-long project of recreating the museum and creating this film:
Filmmaker: Were you commissioned to do this piece or did you conceive of it yourself?
Hoogendijk: I was approached by somebody from the museum who knew my work and thought maybe [I was] a person who could make this film. At the beginning they thought that it would be great if the renovation would be documented by a filmmaker, so they brought me in to do the job.
Filmmaker: Did they have ideas for an aesthetic they had in mind or did you have free reign over the piece conceptually?
Hoogendijk: No, they did not have a plan. They thought it was such a major operation that they wanted for everyone to see what they had done and why they had come to make the decision about what to do. It was an entire renovation, you know, it was everything in the museum. That's why they thought it would be okay and very well if this were all documented. They didn't have any thoughts about how I should make the film. I thought at the beginning that this would be a film about how they reinvented themselves; this was my idea of the film. I knew everything would have to be different in this renovation, that's how I started it, but soon all the trouble started with the cyclist union and everything else and I decided to throw away my scenario because it wasn't of any use anymore.
Filmmaker: With these time-based documentary projects, so much is left to chance because of the nature of events, whether it's the cyclists being upset about the passage being blocked or the debate over whether to include 20th century art or not. I'm curious when, over the course of those years, something that felt like a full film began arising out of the various cuts and sequences I'm sure you were assembling and organizing during the shoot?
Hoogendijk: What happened is we were filming and I knew the main characters and I knew the events I wanted to follow over the years but I knew that the editing process would be the place to see if my idea was working. That's why during filming, even just after one year, I started to work with my editor to see what I had and whether I was going in the right direction or not. Sometimes the editing was done to see whether it was effective and what I wanted and if it was good enough. Normally the renovation would have taken four years. My plan was to make one documentary. The project was supposed to be finished in 2008 but because it took five more years, I had to make a decision to press on and be involved for five more years to finish the film. I couldn't stop in the middle of the project. That's why we decided to tell four parts in the end. We had discussions with the commissioning editor and we had to tell him we couldn't make one film that we had to tell it in parts.
Filmmaker: What most surprised you about the process of a mounting a massive museum restoration project like this?
Hoogendijk: In terms of politics, I would say that the bid from the constructors was double of what the museum expected it to be and that's how this whole project became so expensive and that was really surprising fro everyone. It was amazing. You get the feeling that there was corruption involved but you can't prove it. That would be one, and the other thing is the director not wanting to go on. That was quite surprising too; it was unbelievable that he wanted to jump out in the middle of it. That was a sign that the trouble was fairly serious.
Filmmaker: Did you follow many individuals who ultimately did not end up in the film?
Hoogendijk: There were some people we tried to follow who didn't work out like we wanted to but not many, only two or three. It was more that people disappear in the editing because of the nature of the film. The two Spanish architects, Antonio Cruz and Antonio Ortiz, are focused on earlier in the film but later on they are not. We only see them again when the process of putting the art back into the building begins. It was logical. Everybody has their own part which at a specific moment is important. That was the way to choose. We choose people who were good choices for the camera. At least I think we did.
Filmmaker: What was the response like once you screened the movie for the museum?
Hoogendijk: It was very good! It turns out that it's very good for them that the film is there. They get many more visitors! They were very happy with it. There's only one person who's not happy: Ronald De Leeuw. He's never seen the film. He's heard about it, but he can't dare to watch it, he told me. For him it's not so flattering. It's not good news for him. He's off at his house in Vienna. It should have been the crowning achievement of the end of his career, the opening of the brand new renovated museum and yet ultimately someone else was stewarding it to completion. So it's difficult for him, it's not his thing anymore and someone else walks away with it.
Filmmaker: Do you think the renovation and restoration of the museum has lived up to what it was billed as? Is it the museum everyone hoped and dreamed it would be?
Hoogendijk: That's a nice question. Nobody expected it at a certain point when all the troubles were there and nothing was moving as people wanted to, but now that's it complete, everyone loves it, not just The New York Times. In my personal opinion, it's marvelous, it's so beautiful, it's better than anyone expected it to be. It took a lot of time, there were a lot of setbacks, but it was worth it.
"Epic…Art lovers will find it edifying."- John DeFore, The Hollywood Reporter
"Eye-opening."- A.O Scott, The New York Times
"Four Stars!"- Stephen Boone, RogerEbert.com