FIVE SAUTET CLASSICS TO PREMIERE IN NEW DCP VERSIONS
JULY 24 TO JULY 30 AT LAEMMLE'S ROYAL
FIRST TIME ON DCP
UPDATE: REDISCOVERING SAUTET is Kenneth Turan's "Critic's Pick" in today's L.A. Times!

Claude Sautet (1924-2000), who began his filmmaking career in the early 1950s assisting such directors as Georges Franju (Eyes Without a Face) and Jacques Becker (Touchez Pas Au Grisbi), first tasted success with the crime thriller Classe Tous Risques (1960), but was unfairly overlooked as the New Wave directors dominated French cinema.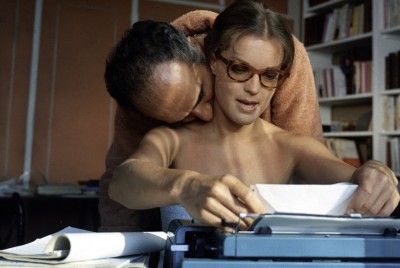 After spending much of the 1960s as a screenwriter – and earning a reputation as a master "script doctor" – Sautet re-emerged as a director to watch. His collaborations with Austrian-born actress Romy Schneider, leading men Michel Piccoli and Yves Montand, screenwriter Jean-Loup Dabadie, and cinematographer Jean Boffety, yielded romantic, yet haunting films that embodied the privileges and struggles of the French bourgeoisie following the political upheavals of the 1960s. The series features three of his collaborations with Schneider – Les Choses De La Vie (1970), the policier Max et Les Ferrailleurs (1971), and César and Rosalie (1972) – along with the rarely-seen Vincent, François, Paul and the Others (1974), starring Yves Montand, Michel Piccoli, and Gérard Depardieu, and Sautet's final film, Nelly and Monsieur Arnaud (1995).
According to Bob Laemmle, Laemmle Theatres hosted the Los Angeles premieres of all five of these films — his favorite is César and Rosalie — at the Royal. We are proud to host their DCP premieres next month. (Note: none is available on Blu-ray or DVD.)
For more info and tickets, visit REDISCOVERING SAUTET.
FULL SCHEDULE:
Friday 7/24
12:00 – MAX ET LES FERRAILLEURS
02:35 – NELLY AND MONSIEUR ARNAUD
05:10 – LES CHOSES DE LA VIE
07:45 – CESAR AND ROSALIE
10:15 – VINCENT, FRANCOIS, PAUL AND THE OTHERS
Saturday 7/25
12:00 – VINCENT, FRANCOIS, PAUL AND THE OTHERS
02:35 – MAX ET LES FERRAILLEURS
05:10 – NELLY AND MONSIEUR ARNAUD
07:45 – LES CHOSES DE LA VIE
10:15 – CESAR AND ROSALIE
Sunday 7/26
12:00 – CESAR AND ROSALIE
02:35 – VINCENT, FRANCOIS, PAUL AND THE OTHERS
05:10 – MAX ET LES FERRAILLEURS
07:45 – NELLY AND MONSIEUR ARNAUD
10:15 – LES CHOSES DE LA VIE
Monday 7/27
12:00 – LES CHOSES DE LA VIE
02:35 – CESAR AND ROSALIE
05:10 – VINCENT, FRANCOIS, PAUL AND THE OTHERS
07:45 – MAX ET LES FERRAILLEURS
10:15 – NELLY AND MONSIEUR ARNAUD
Tuesday 7/28
12:00 – NELLY AND MONSIEUR ARNAUD
02:35 – LES CHOSES DE LA VIE
05:10 – CESAR AND ROSALIE
07:45 – VINCENT, FRANCOIS, PAUL AND THE OTHERS
10:15 – MAX ET LES FERRAILLEURS
Wednesday 7/29
12:00 – MAX ET LES FERRAILLEURS
02:35 – NELLY AND MONSIEUR ARNAUD
05:10 – LES CHOSES DE LA VIE
07:45 – CESAR AND ROSALIE
10:15 – VINCENT, FRANCOIS, PAUL AND THE OTHERS
Thursday 7/30
12:00 – VINCENT, FRANCOIS, PAUL AND THE OTHERS
02:35 – MAX ET LES FERRAILLEURS
05:10 – NELLY AND MONSIEUR ARNAUD
07:45 – LES CHOSES DE LA VIE
10:15 – CESAR AND ROSALIE