On April 10th we'll be opening Rialto Pictures latest restored classic, the 1960 Italian comedy THE PASSIONATE THIEF, at the Royal and Playhouse. The film is set on a Roman New Year's Eve. A struggling actress (Anna Magnani) runs into an old acting acquaintance (Toto), who is helping a professional pickpocket (Ben Gazzara) fleece people during the hustle-bustle of New Year's Eve festivities. They embark on a series of funny adventures all over Rome at different parties, restaurants, and even the Trevi fountain. Based on stories by Alberto Moravia (The Conformist). This digital restoration was carried out by Fondazione Cineteca di Bologna starting from the original camera negative.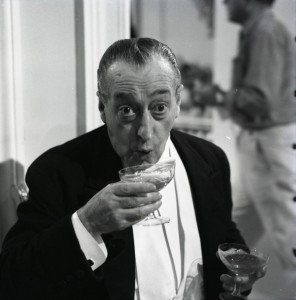 "Chronicles a New Year's Eve that turns into a disaster for a pathetic trio of good-for-nothings…Monicelli uses Rome's natural décor as an open air theater…Deserted plazas, crowded night clubs, La Dolce Vita's Fontana di Trevi, a gothic villa filled with German aristocrats, and construction sites at dawn rise like a black and white dream…This sparkling nocturnal marathon probably owes a lot to the Fellini of La Strada and the Visconti of White Nights. But, in the best neorealist tradition, Monicelli extracts from these 'useless' characters a tragicomic dimension." – Vincent Malausa, Cahiers du Cinéma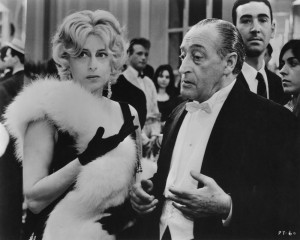 "Shot just a few months after La Dolce Vita, and filmed in Rome in the same locations and with the same set designer, Mario Monicelli's film acted like a parody of Fellini's masterpiece. Though it made use of the same stage, THE PASSIONATE THIEF portrayed a completely different viewpoint to Fellini's romantic Italy. The film's comedic couple, Anna Magnani and Totò, the quintessential losers, served as perfect opposites to Anita Ekberg and Marcello Mastroianni, and Monicelli contrasts La Dolce Vita's promise of a bright and glamorous future with a depiction of an archaic, already perishing Italy. The film, about two performers struggling even to find enough food to eat, decisively expresses Monicelli's anti-modern poetics during the period when he released Big Deal on Madonna Street, La Grande Guerra and The Organizer, all nominated for Academy Awards." – Gian Luca Farinelli, Cineteca di Bologna (2014 Telluride Film Festival program guide)
INTERVIEW WITH MARIO MONICELLI
Did you have a particular writing method, drafting a treatment, defining an outline, or did you immediately start writing the screenplay using your intuition to guide you?
Yes, we adopted a specific method. First we'd talk through the story, even a bare minimum of three lines, which would then be developed. We'd identify a few salient points to be articulated in this way or that. If we agreed that a certain plot twist was needed, we would write it, even if we didn't really know how it would be resolved. What was crucial for us was to know how the story would end, because we were writing narrative films. Telling stories. Not all films are like this: there are also those that represent a magnificent truth, films of images, of beauty, which don't even try to tell stories but convey states of mind, anxieties, dreams, made by people who think cinema is a dream and know how to express that. Whereas there are others who tell stories through film and since we fell into this category, it was a big help for us to know how the story ended, its trajectory. Then the rest was fleshed out in the outline – which is the main thing – until it was complete. Though we didn't create something that was entirely set in stone.
Then, when you started to direct, there were two additional things to do: one was direct the set and the other was choosing the actors. You pay a lot of attention to this aspect of the preparation.
I take a long time to prepare and plan everything meticulously. This means that by the time I start filming I'm already on the home straits, and actually this is the lightest phase in the process. I believe the heaviest moments, the ones that really weigh on your mind, come at other times. The screenplay is very demanding, but luckily you share this work with other people! You're deeply involved and your brain is working overtime, even when you're not actually writing, you're just on your own, thinking about the scenes.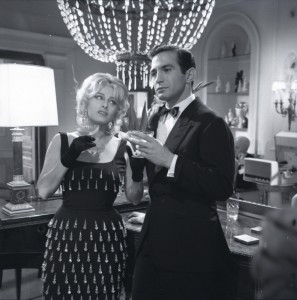 Then comes the preparation, which is vitally important! Because you scout out locations, go traveling around, rejecting places, returning to see them two or three times, with the art director etc.
Then the choice of costumes is also crucial, because every character must have clothes that fit the story, the situation, the personality. And then there's everything to do with the lighting, with the lighting director. You have to visit the locations you've chosen with him to talk through the scenes, see which conditions are best. Basically it's a pretty long and complex process. And then there's the choice of the cast. That too is very long, it can last months. I watch a lot of films to see the performers, or to see them again, in some cases I watched films several times. I also make an initial choice of actors who I've never seen by looking at photographs and then there are lots and lots of screen tests. In other words, the whole planning process ends up being very long; it takes a minimum of three to four months.
With producers it works like this: during the screenwriting they almost never interfere and let you got on with it, since they're not paying you for the time it takes to write the thing, just for the final script. It's when they sit down and read it that things get tricky. When a producer starts to read a script, especially in the case of comedies, which is what we do, the first thing he wants to know is whether it makes him laugh, so all he's looking for is whatever makes him keel over with laughter – or doesn't.
I'm really no expert on this, though, since for the very first film I ever made, I was lucky enough to sign on Totò, a wildly popular figure who could do no wrong; whatever he did was a hit. So I had Totò to thank for the success of my early films. When he was in the movie, everyone went to see it. They gave me credit for its success, too, but I can tell you this wasn't true! I did learn a lot, in any case.
In no time at all, I'd got a reputation as a successful director, so if I argued about something, or insisted, or did something…the producers said yes. They said I was right because they thought: "If he likes it he should know: he's made all those hit films!" So I didn't face many stumbling blocks. I actually had the way paved for me in my career, and it was all thanks to starting off with Totò. To be honest, Totò could give you a lot of pointers; he could teach you, he'd do this and that…of course, you had to work out what you could get him to do. Totò was not as easy to handle as he looked, as an actor he had a truly unique quality; you basically had to take him for what he was. I knew him well, we spent time together; I'd written loads of scripts for him so we understood each other.
At the stage when you choose one setting over another because it just seems right – maybe it has an unusual backdrop – can you already imagine the scene, where to place the actors and how they'll move?
To begin with, when I scout locations, I'm looking for a place that already exists in my mind. Even before that, when the screenwriters are talking, I can already see the setting. That's because when you write what the characters are saying and doing…you imagine them in a location, at least I always do.
So when I go out and choose the place, I'm looking for something that is imaginary! And it's never the same as what I find! But you have to keep an open mind…That is, you might very well come across a place you like because it's beautiful, even though it's not what you were looking for, and then you think, "Let's film the scene here!" In that case, yes you can make slight variations to the script, or the dialogue…small changes, though…
If the setting was a terrace and now it's a diamond mine, for example, you have to change a bit more, but still not much, believe it or not! You have to be open especially to what the set designer thinks, if you have a valid set designer. I've worked with marvelous set designers and costume designers, like Piero Gherardi, Piero Tosi, etc. who would sometimes run the most absurd sets by you. And you'd think, "Why did he suggest that to me? Has he even read the script? How did he even think of such a thing?!" So you try to get a better idea, and sometimes you even realize the set is perfect after all. In that case you have to change the whole way you've pictured the scene in your mind: the actor who's over there, who springs into action at that point…it's all different…but it works. The same thing with costumes: sometimes they put an actor in an outfit you didn't expect, and you'll say no; other times it actually works. Each time you have to see how it looks.
– Interview conducted by Steve Della Casa and Francesco Ranieri Martinotti "Handbook of a Master of All Trades: A Conversation with Mario Monicelli"