As John Oliver recently satirized on HBO by
casting nine dog actors as the United States Supreme Court Justices
, one cannot see any Supreme Court proceedings (they don't allow video cameras in their courtroom) unless you go to Washington and get in line early. Or can see artists' renderings and listen to audio. Perhaps best of all is the brilliant theater troupe Elevator Repair Service's take on the 1991 case in which the Court heard arguments in a case about nude dancing and its implications for the First Amendment. From REDCAT: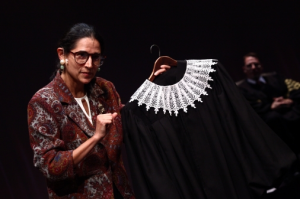 "Wittily inventive… A cool, obsessive genius animates the ever more fevered proceedings of Arguendo." – The New York Times
"Full of Supremely Naughty Charm." – The Village Voice

Thursday, November 6, 2014 to Sunday, November 9, 201f4: Elevator Repair Service: Arguendo
New York's brilliant and provocative ensemble Elevator Repair Service, who famously turned The Great Gatsby into the stage epic Gatz at REDCAT, now brings the U.S. legal system to the stage in pure absurdist fashion. ERS portrays the Justices, lawyers and exotic dancers as they depict verbatim the U.S. Supreme Court case Barnes v. Glen Theatre, a 1991 case brought by a group of go-go dancers who claimed a First Amendment right to dance totally nude. Meanings are nuanced as the Justices attempt to define dance, ponder nudity from opera houses to strip-clubs, and ultimately answer if dancing naked is artistic expression or immoral conduct.
Tickets:
$30-40 [$25-35 student/member]
Location:
REDCAT | 631 West 2nd St. Los Angeles, CA 90012
Funded in part by the generous support of the Maurer Family Foundation and the New England Foundation for the Arts' National Theater Project, with lead funding from the Andrew W. Mellon Foundation.