With the help of the LAEMMLE FOUNDATION, our friends at the LACBC (Los Angeles County Bicycle Coalition) are it again!  They're hitting the streets and making Southland roads safer by distributing free bicycle lights.  It's all part of their annual OPERATION FIREFLY.
Here's how it works: LACBC's street team descends (unannounced) upon a surprise location that typically experiences a high volume of cyclists during the peak commute hours of 5-7pm.  With the recent turning back of the clock, these are dark hours, perfect for sussing out bicycles in need of lights. Operation Firefly volunteers stop any non-illuminated cyclist and offer to install high-quality front and rear LED lights completely free of charge! In addition to the lights, recipients receive an informational "spoke card" that explains the laws for riding at night and includes vital safety tips.
This year, thousands of lights will be given away through over 25 distribution events across the L.A region including multiple sites in the valley, city, and all the way down to Long Beach. The program continues until we turn the clock forward in March.
Distribution site are not announced in advance. But you can get the scoop the day of a giveaway by subscribing to the LACBC's Twitter Feed.   And all those who include #OperationFirefly in their social media posts during the run of the program will be eligible to win prizes such as LACBC memberships, Operation Firefly Merchandise, and Laemmle prizes (including movie tickets).
As mentioned above, this year the Laemmle Foundation is proud to be the primary sponsor of Operation Firefly. With the support of the Foundation, LACBC is striving to double the number of lights distributed in 2014 from the previous year.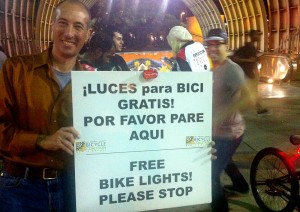 LACBC Programs Director
COLIN BOGART remarks, "We are thrilled to have the Laemmle Foundation as our 'guiding light' for Operation Firefly this year."
He continues, "And by making city streets safer for cyclists, pedestrians, and motorists, we're pleased to be doing our part in fulfilling the foundation's aim of 'projecting a brighter future for L.A.'"
As part of our involvement, Laemmle volunteers will be on-hand at a number of the distributions to assist in the light give-aways and perhaps even give away samples of our world-famous popcorn!  Stay current with our Operation Firefly involvement and other happenings via Twitter at — twitter.com/laemmle.  And be sure to stay connected with the Laemmle Foundation and join the conversation via #laemmlegiving.
You can support Operation Firefly by "gifting" a set of lights, buying program merch (very cool cycling caps and vests!) or through simple donations.  Get all the details HERE.