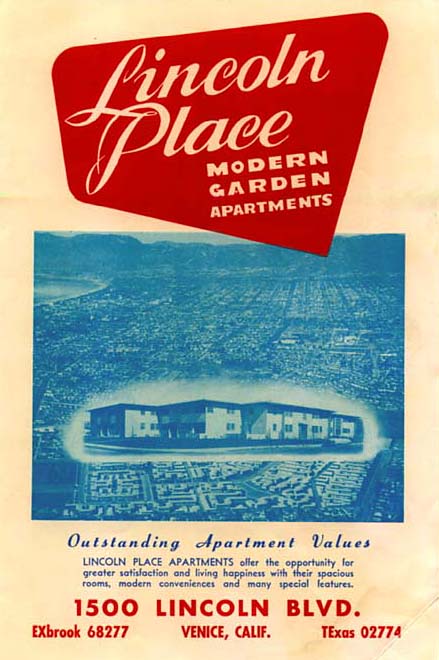 Our friends at the Los Angeles Conservancy have a neat and unique event set for this Saturday, one perfect for people interested in landscape design, progressive city planning, architecture, L.A. history and/or pleasant strolls in pretty places: a tour devoted to three beautiful and historic garden apartment properties around Los Angeles: Village Green in Baldwin Hills (built in 1941); Chase Knolls in Sherman Oaks (1948); and Lincoln Place in Venice (1951). From the L.A. Conservancy site:
Imagine living in a garden oasis in the middle of America's second-largest city, lounging on patio furniture sets. Thousands of people do, and it's a unique and endangered way of life in development-prone L.A. Here's a chance to see what life is like in historic garden apartments, "villages in the city" that could never be built today.
Los Angeles has one of the largest collections of garden apartments in the nation, with nearly forty built between the late 1930s and the mid-1950s. Why are these communities so special?
They put people first, connecting people to each other and to nature
They are forward-thinking, blending housing needs with innovative architecture, landscape design, and city planning
They are

still

great places to live today!
See for yourself why these places are so special at this one-time-only tour of Village Green in Baldwin Hills (1941), Chase Knolls in Sherman Oaks (1948), and Lincoln Place in Venice (1951).
You'll also learn about our efforts to preserve Wyvernwood in Boyle Heights (1939), L.A.'s first large-scale garden apartment community, which is threatened with demolition.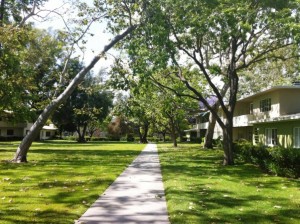 How the Tour Works
This tour combines a one-hour opening session with docent-led tours at three garden apartment communities in Baldwin Hills, Venice, and Sherman Oaks.
The opening session will take place at the Wilshire Ebell Theatre, centrally located between the tour sites.
The opening session will include a brief overview of garden apartments, the premier of a short film about garden apartments, and a summary of our work to preserve them.
You'll drive yourself to each of the tour sites and spend 45-60 minutes at each site. Site tours will include apartment interiors. Not including check-in and the opening session, you'll have 5.5 hours to visit the three sites.
You can visit the three tour sites in any order you choose.
In scheduling your day, please factor in lunch and drive times between the locations.
The site tours will end promptly at 4:30 p.m.
After you buy your tickets, you'll receive an email confirmation with more details.
Event Timeline (subject to change)
9-10am – Check-in
Check-in at Wilshire Ebell Theatre, 4401 8th Street, Los Angeles, 90005
10-11am – Opening Session
Welcome and Preservation Successes
Linda Dishman, Executive Director, Los Angeles Conservancy
Short film about garden apartments, in collaboration with filmmaker Maya Santos from Form Follows Function Media Studio
Overview: Garden Apartments in Los Angeles
Katie E. Horak, Senior Associate/Architectural Historian, Architectural Resources Group and Steven R. Keylon, Landscape Historian
Overview: Preservation Efforts at Wyvernwood
Adrian Scott Fine, Director of Advocacy, Los Angeles Conservancy
Leonardo Lopez, Wyvernwood resident and member of El Comité de la Esperanza
Jose A. Fernandez, Community Plan Organizer, East Los Angeles Community Corporation
11:30am-4:30pm – Tours
Docent-led tours of The Village Green, Lincoln Place, and Chase Knolls (drive yourself to the sites in any order; tour sites will not open before 11:30am)