As the L.A. Times and KCRW recently announced, the Skirball Cultural Center has a fascinating new exhibition created with AMPAS called LIGHT & NOIR: Exiles and Émigrés in Hollywood, 1933–1950. Combined with the related exhibitions The Noir Effect and Cafe Vienne, and LACMA's Haunted Screens: German Cinema in the 1920's, there has never been a better time to get a robust education in how the brain drain brought about by World War II changed Los Angeles and its signature cultural export, movies. From the Skirball:
The birth of Hollywood is a Jewish and an American story alike. It is a story of immigration and innovation, beginning with the handful of visionary émigrés who founded the American film industry in the early twentieth century. Less widely known are the stories of the German-speaking actors, directors, writers, and composers—many of them Jewish—who fled Nazi persecution in Europe and went on to shape Hollywood's "Golden Age." The exhibition Light & Noir: Exiles and Émigrés in Hollywood, 1933–1950 pays tribute to their lives and work, revealing the profound ways that the émigré experience left a mark on American movie-making. Co-presented with the Academy of Motion Picture Arts and Sciences, Light & Noir will be on view at the Skirball October 23, 2014–March 1, 2015.
Light & Noir offers an experience at once entertaining and illuminating. Among the many émigrés highlighted are luminary directors Fritz Lang, Billy Wilder, and Fred Zinnemann; Oscar-winning composers Erich Wolfgang Korngold and Franz Waxman; and acclaimed writers Salka Viertel and Lion Feuchtwanger. Through a never-before-assembled selection of film footage, drawings, props, costumes, posters, photographs, and memorabilia, Light & Noir examines different genres in which the émigrés were especially productive: the exile film, the anti-Nazi film, film noir, and comedy. These include such classics as Ninotchka (1939), Sunset Boulevard (1950), and Casablanca (1942). On view are costumes worn by Humphrey Bogart, Ingrid Bergman, Paul Henreid, Marlene Dietrich, and Joan Crawford, as well as one of Billy Wilder's Academy Awards, Ernst Lubitsch's twenty-five year anniversary album, the Max Factor Scroll of Fame, and furniture from the set of Rick's Café in Casablanca.
"Light & Noir reveals the brilliant legacy bequeathed by European Jewish filmmakers to Hollywood," says Robert Kirschner, Skirball Museum Director. "It shows how exiled outsiders became Hollywood insiders, bringing a sensibility to filmmaking at once tragic and comic."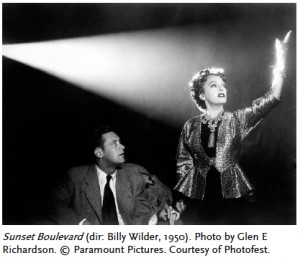 Concurrently, the Skirball presents two related exhibitions. The Noir Effect explores how the genre of film noir gave rise to major trends in popular culture, art, and media. Visitors will be invited to examine cult neo-noir films like Chinatown (1974) and Brick (2005)—as well as graphic novels, comics, children's books and games, art, and photography—through the lens of noir. Café Vienne, a site-specific installation by artist Isa Rosenberger, honors the recently rediscovered work of Austrian American Jewish writer Gina Kaus (1894–1985) and the cultural role of the Viennese coffee house.
The suite of exhibitions at the Skirball is complemented by Haunted Screens: German Cinema in the 1920s, organized by the Los Angeles County Museum of Art (LACMA) in collaboration with La Cinémathèque française, Paris. Featuring nearly 150 drawings, as well as set stills, manuscripts, and posters, Haunted Screens investigates the visual hallmarks of German Expressionist cinema, the distinctive style of which was a major influence on film noir. Haunted Screens will be on view at LACMA September 21, 2014–April 26, 2015.
During the run of Light & Noir, The Noir Effect, and Café Vienne, the Skirball will present several related film series, lectures, courses, and a pop-up shop of merchandise influenced by film of the period.
Learn more about the exhibition and buy tickets here.