A great dance film, a great house of dance, a great dancer—the Los Angeles Conservancy hosts a triple-threat screening of West Side Story on Saturday, June 14 at 8 p.m. at The Music Center's Dorothy Chandler Pavilion. Co-star George Chakiris, who won both a Golden Globe® and an Academy Award® for his role in the film, will appear onstage before the screening in conversation with dance critic Debra Levine.
"George is one of dance's smoothest operators," says Levine, a Los Angeles Times dance writer who blogs on dance and film on artsmeme.com. "He's a suave and velvety mover whose smoldering good looks propelled him to stardom."
The evening is part of the Los Angeles Conservancy's Last Remaining Seats series, an annual series of classic film and live entertainment in historic theatres. Last Remaining Seats presents classic films as they were meant to be seen: on the big screen, in a beautiful historic venue, surrounded by up to two thousand fellow fans.
A Broadway musical immortalized in film, 1961's West Side Story is a modern-day take on Shakespeare's timeless tale, "Romeo and Juliet." The story is set in New York City's Upper West Side in the 1950s. In the place of Shakespeare's warring families are rival street gangs—the Jets, second generation Polish-American teens, and the Sharks, Puerto Rican immigrants.
Co-directed by Robert Wise and Jerome Robbins, the film features songs by Leonard Bernstein and Stephen Sondheim for the original stage production. The exceptional cast includes Chakiris as Bernardo, leader of the Sharks. Delivering other iconic performances were Russ Tamblyn as the leader of the Jets, Rita Moreno as Bernardo's girlfriend, and Natalie Wood as Maria.
West Side Story won ten Academy Awards and five Golden Globes. It was thematically and stylistically groundbreaking for the movie musical genre. At the movie's center is the original choreography of Robbins: beautiful, stylized, and balletic.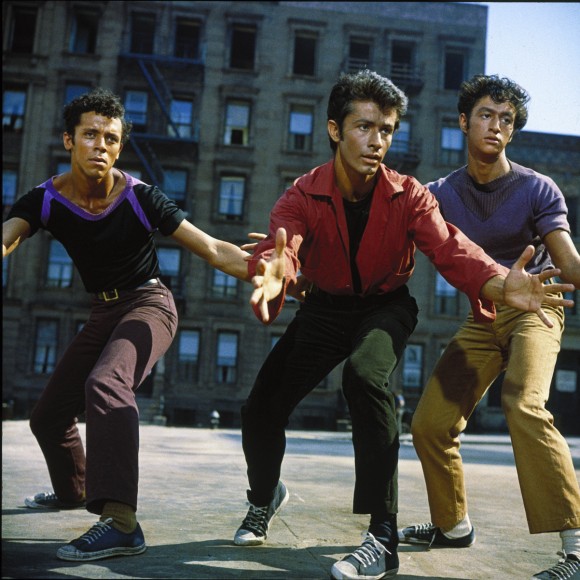 Chakiris was a veteran film gypsy before Jerome Robbins cast him in "West Side Story."  "In the '50s, he worked with the crème de la crème of Hollywood dance makers, notably Hermes Pan, Robert Alton and Jack Cole," says Levine. "He's the only actor to win an Oscar® for a dancing role beside James Cagney, for 1942's Yankee Doodle Dandy."
"George is a dancer-eternal who looks decades younger than his age. He's in tremendous condition. His personal fountain of youth? 'Go to the gym,' he advises."
Making the screening even more special is its locale: The Music Center's Dorothy Chandler Pavilion, celebrating its 50th anniversary this year. The Pavilion is widely renowned for hosting stellar dance performances, presenting the best dance companies in the world since 1969.
Tickets for the screening are available online until noon on Wednesday, June 11, then in person at the Dorothy Chandler Pavilion box office on June 13 and 14. For details, visit laconservancy.org.