From the New Yorker today, November 27, 2018, by Richard Brody: From the title alone, it's obvious that "Bathtubs Over Broadway," a new documentary by Dava Whisenant that opens this Friday, will be a delight. Its subject is the industrial musical—plays produced by corporations for their employees to enjoy at nationwide or regional sales meetings and conventions. Steve Young, who was, for more than twenty years, a writer for David Letterman, became obsessed, in the mid-nineties, with these shows—in particular, with LPs of them, which were pressed solely to be distributed to employees as souvenirs. The ostensible subject of "Bathtubs Over Broadway" is the amusement value of these exotic, eccentric by-products of show business, whose kitschy pleasures include celebrations of automobiles, dog food, and disposable blood-absorbing liners for the operating room, in a number that rhymes "hysterectomy" and "appendectomy." But the overarching and underlying question that the film poses is nothing less than: What is art? And, for that matter, is the conventional definition of good art too narrow to account for the merits of such works as these?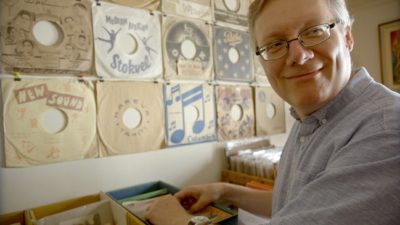 Young admits that he was initially attracted to these records because he found them "unintentionally hilarious." (This is the quality that led him to work the musicals into bits on the Letterman Show, for the recurring segment "Dave's Record Collection.") But, as he devoted himself to collecting the albums more intensively and combed archives and personal collections for memorabilia, whether sheet music or handbills, photographs or reels of film, Young discovered that, alongside the intrinsic element of absurdity and incongruity, there's often a sincere and authentic spark of creative imagination and ingenuity.
He noted that some of these shows employed major artists (or ones who'd later become famous), both behind the scenes and onstage, including the composers Sheldon Harnick (better known for "Fiddler on the Roof") and the team of John Kander and Fred Ebb ("Cabaret"); such actors as Chita Rivera, Florence Henderson, Bob Newhart, and Martin Short; and directors including Bob Fosse and Susan Stroman. Young also became fascinated by other performers and composers whose prominence in industrial musicals wasn't matched by success in public theatre, and he sought to learn more about their art and their lives.
"Bathtubs Over Broadway" chronicles Young's own story, as a writer early in his career who had no hobbies and instead found an obsession—and whose increasing involvement with industrial musicals coincided with David Letterman's retirement and Young's own withdrawal from comedy writing. (Fascinatingly, Young describes himself as "comedy-damaged," explaining that decades of immersion in comedy have left him evaluating the craft rather than responding to it, and his sideline in industrial musicals appears to restore him to a state of unjaded passion.) Yet the central enticement of the documentary comes from the records and films of the musicals themselves. "Bathtubs Over Broadway" springs to life above all when Young puts an LP on his turntable, when he's in a Library of Congress viewing room and sees a private 16-mm. copy of a production, or when digitized copies of soundtracks and films are excerpted directly into the film. The movie includes clips from the disco-style Johnson & Johnson "sunscreen musical of 1978," a musical number called "Xerox Spoken Here," the sheet music for an instrumental number called "Seagram's Symphony," and a scene of a kick-line chorus singing a financial ditty about "the extra margins that accrue."