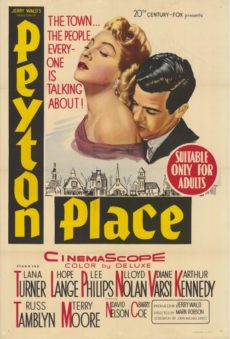 60th Anniversary Screening of PEYTON PLACE (1957)
Followed by a Q&A with Co-Star Terry Moore
Wednesday, July 12, at 7:00 PM at the Royal
Presented digitally
Click here for tickets.
Laemmle Theatres and the Anniversary Classics Series present a 60th anniversary screening of PEYTON PLACE, the smash hit movie version of Grace Metalious's best-selling novel. The film earned nine top Academy Award nominations, including Best Picture, Best Director, and Best Adapted Screenplay. It also tied the all-time record of five acting nominations from a single film: Lana Turner as Best Actress and 4 supporting nods, for newcomers Diane Varsi and Hope Lange, along with Arthur Kennedy and Russ Tamblyn.
Metalious's novel exposed the steamy shenanigans in a small New England town, and even in a slightly toned down version, the film tackled such once forbidden topics as rape, incest, sexual hypocrisy and repression. It opened in December of 1957 and became the second highest grossing film of 1958 after going into wide release. It spawned a sequel and a popular TV series in the 1960s.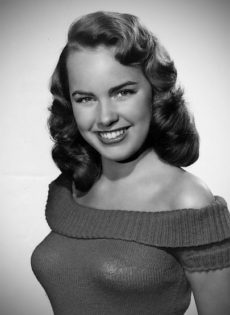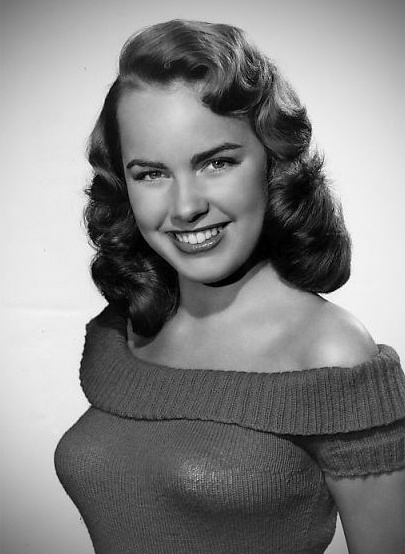 Leonard Maltin summed up the critical consensus when he wrote, "Grace Metalious's once-notorious novel receives Grade A filming." Producer Jerry Wald (whose credits included Mildred Pierce, Key Largo, Johnny Belinda, An Affair to Remember, The Long Hot Summer, and Sons and Lovers) bought the rights to the novel for $250,000 and hired a classy team to bring it to the screen. Screenwriter John Michael Hayes wrote many of the best Alfred Hitchcock movies of the 1950s, including Rear Window, The Trouble with Harry, and The Man Who Knew Too Much. Director Mark Robson started as an assistant editor on Orson Welles' Citizen Kane and The Magnificent Ambersons, then directed such successful films as Champion, The Bridges at Toko-Ri, and Inn of the Sixth Happiness. Oscar winning composer Franz Waxman provided the memorable musical score. The cast also includes Mildred Dunnock, Betty Field, Lloyd Nolan, David Nelson, Terry Moore, and Barry Coe.
The Hollywood Reporter praised all the performances but singled out co-star Terry Moore, who "shows what a forceful and moving actress she can be." Moore made a vivid impression in 1949's Mighty Joe Young, then earned an Oscar nomination for Come Back, Little Sheba in 1952. Her other films include Man on a Tightrope with Fredric March, King of the Khyber Rifles with Tyrone Power, Beneath the 12-Mile Reef with Robert Wagner, and Daddy Long Legs with Fred Astaire and Leslie Caron. She made 77 feature films over the course of her career and also appeared in many TV series and movies.