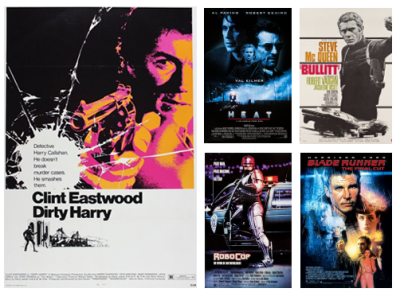 Join Laemmle and  Eat|See|Hear for a "March Crime Wave" at the NoHo 7 in North Hollywood! Every Thursday in March our Throwback Thursday (#TBT) series presents one of our favorite crime films. It all starts Thursday, March 2nd with DIRTY HARRY. Doors open at 7PM, trivia starts at 7:30PM, and films begin at 7:40PM! Check out the full schedule below. For tickets and our full #TBT schedule, visit laemmle.com/tbt!
March 2: DIRTY HARRY (1971)
When a mad man calling himself 'the Scorpio Killer' menaces the city, tough-as-nails San Francisco Police Inspector Harry Callahan is assigned to track down and ferret out the crazed psychopath. Get tickets.
March 9: HEAT (1995)
A stellar cast sizzles in Heat, a taut psychological drama about an obsessive detective and a brilliant thief whose fates are linked in the aftermath of a high-stakes securities heist. A brilliant L.A. cop (Al Pacino) follows the trail from a deadly armed robbery and becomes fixated on a deadly but equally brilliant master thief (Robert DeNiro) and his crew (Val Kilmer and Jon Voight) who are taking Los Angeles to the cleaners, Tom Sizemore, Ashley Judd and Natalie Portman also co-star. Heat also includes one of the most spectacular shoot-outs in film history as DeNiro and Kilmer rip through downtown Los Angeles with guns blazing. Get tickets.
MARCH 16: BULLITT (1968)
Robert L. Pike's crime novel Mute Witness makes the transition to the big screen in this film from director Peter Yates. In one of his most famous roles, Steve McQueen stars as tough-guy police detective Frank Bullitt. The story begins with Bullitt assigned to a seemingly routine detail, protecting Mafia informant Johnny Ross (Pat Renella), who is scheduled to testify against his Mob cronies before a Senate subcommittee in San Francisco. But when a pair of hit men ambush their secret location, fatally wounding Ross, things don't add up for Bullitt, so he decides to investigate the case on his own. Unfortunately for him, ambitious senator Walter Chalmers (Robert Vaughn), the head of the aforementioned subcommittee, wants to shut his investigation down, hindering Bullitt's plan to not only bring the killers to justice but discover who leaked the location of the hideout. Get tickets.
March 23: ROBOCOP (1987)
In a dystopian, crime-ridden Detroit, a terminally wounded cop returns to the force as a powerful cyborg haunted by submerged memories. Get tickets.
March 30: BLADE RUNNER (1982)
Ridley Scott's final cut of his stunning sci-fi classic based on Philip K. Dick's novel Do Androids Dream of Electric Sheep? In the year 2019, ex-detective Rick Deckard (Harrison Ford) is called out of retirement to track down and eliminate a team of humanoid androids that have escaped from an outer space mining colony and have taken refuge on Earth. Rutger Hauer, M. Emmet Walsh, Edward James Olmos, William Sanderson, Joanna Cassidy, Sean Young and Daryl Hannah co-star. Get tickets.