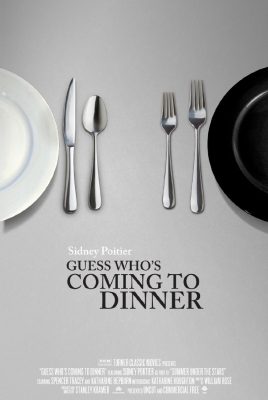 Join us for a 50th anniversary screening of GUESS WHO'S COMING TO DINNER on Wednesday, February 15, at 7:00 PM at the Laemmle Royal in West LA. Q & A after the screening with Karen and Kat Kramer, widow and daughter of producer-director Stanley Kramer. Click here to purchase tickets.
GUESS WHO'S COMING TO DINNER was nominated for 10 Academy Awards in 1967, including Best Picture and Best Director. It is one of a small number of films to receive Oscar nominations in all four acting categories. Katharine Hepburn won the Oscar for Best Actress, and William Rose also won for his original screenplay. The cast also includes Spencer Tracy (who received his ninth Oscar nomination for his final screen performance), Sidney Poitier, Katharine Houghton, Beah Richards, and Cecil Kellaway.
The picture made headlines for being one of the few Hollywood movies of the era to center on an interracial love story. The movie completed shooting just a few weeks before the Supreme Court ruled, in Loving v. Virginia, that anti-miscegenation laws still on the books in most Southern states were unconstitutional. So the film foreshadowed this historic decision.
Beyond its social content, however, the film is remembered as the last of nine movies that Hepburn and Tracy made together. Their irresistible chemistry was once again visible in their final collaboration, completed just two weeks before Tracy's death, and adds considerable poignancy to the film.
Producer-director Stanley Kramer was the man behind such potent dramas as Judgment at Nuremberg, Inherit the Wind, On the Beach, The Defiant Ones, Ship of Fools, High Noon, and The Wild One. In addition to his many nominations as director and producer, he was awarded the prestigious Irving G. Thalberg Award in 1961.
Q&A will be moderated by former Los Angeles Film Critics Association president Stephen Farber. Part of our ongoing Anniversary Classics series. For details, visit www.laemmle.com/ac.