Join Laemmle and Eat|See|Hear for WILD(ER) NOVEMBER, a special Throwback Thursday (#TBT) tribute to one of our favorite actors, Gene Wilder.
It kicks off Thursday, November 3rd with WILLY WONKA & THE CHOCOLATE FACTORY.  Doors open at 7PM, trivia starts at 7:30PM, and films begin at 7:40PM. Check out the full schedule below or visit http://www.laemmle.com/tbt.
#TBT runs (almost) every Thursday night at the Laemmle NoHo 7 in North Hollywood. Tickets are $11 and may be purchased online or at the Laemmle NoHo 7 box office. As with regular screenings, discounts are available for children, seniors, and Laemmle Premiere Card holders.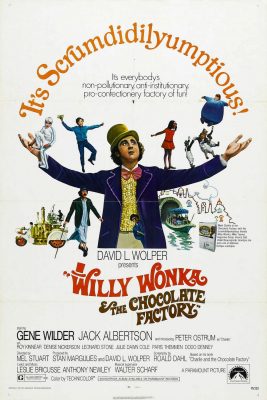 November 3: WILLY WONKA & THE CHOCOLATE FACTORY
Promoted as a family musical by Paramount Pictures, Willy Wonka & the Chocolate Factory is more of a black comedy, perversely faithful to the spirit of Roald Dahl's original book Charlie and the Chocolate Factory. Enigmatic candy manufacturer Willy Wonka (Gene Wilder) stages a contest by hiding five golden tickets in five of his scrumptious chocolate bars. Whoever comes up with these tickets will win a free tour of the Wonka factory, as well as a lifetime supply of candy. Four of the five winning children are insufferable brats: the fifth is a likable young lad named Charlie Bucket (Peter Ostrum), who takes the tour in the company of his equally amiable grandfather (Jack Albertson).
Buy tickets.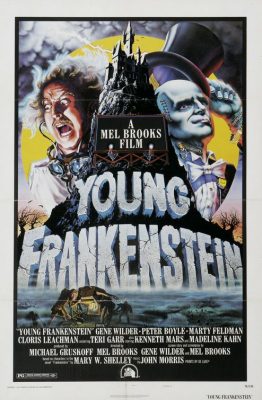 November 10: YOUNG FRANKENSTEIN
In this spoof of Mary Shelley's gothic novel, the grandson of Victor Frankenstein, a neurosurgeon, has spent his life living down the legend of his grandfather, even changing the pronunciation of his name. When he discovers his grandfather's diary, he begins to feel differently, and returns to the family castle to satisfy his curiosity by replicating his ancestor's experiments. In the process, he creates one very unique monster.
Buy tickets.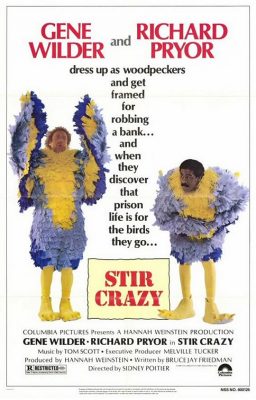 November 17: STIR CRAZY
After teaming up in Silver Streak, Gene Wilder and Richard Pryor reunited for this zany comedy in which they play a couple of out-of-work numbskulls who take a promotional job that has them dressed up like woodpeckers. Unfortunately, a pair of thieves, also in woodpecker suits, pulls off a bank heist and the boys are wrongly arrested and sentenced to 120 years each. After a concerted and hilarious effort to make the best of things "in stir," Wilder and Pryor break out of jail, hoping to track down the actual thieves.
Buy tickets.
November 24: Thanksgiving Day
Sorry, no #TBT screening this week because of Thanksgiving. Enjoy some time with family, friends, and ?. Gobble gobble!