Join Laemmle and  Eat|See|Hear for TREKTEMBER a full month of Star Trek awesomeness at the NoHo 7 in North Hollywood!
Every Thursday in September our Throwback Thursday (#TBT) series presents our favorite Star Trek films, including STAR TREK II: THE WRATH OF KHAN, STAR TREK III: THE SEARCH FOR SPOCK, and STAR TREK IV: THE VOYAGE HOME.
Plus, we're screening the new Leonard Nimoy doc, FOR THE LOVE OF SPOCK, on 9/8 with special guest Adam Nimoy.
It all starts Thursday, September 1st with the cult classic homage to Star Trek, GALAXY QUEST! For tickets and our full #TBT schedule, visit laemmle.com/tbt!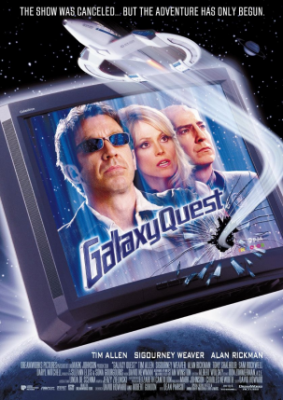 September 1: GALAXY QUEST
For four years, the courageous crew of the NSEA Protector donned their uniforms and set out on thrilling and often dangerous missions in space – then their series was canceled. Twenty years later, the five stars of the classic '70s series "Galaxy Quest" are still in costume, making appearances at sci-fi conventions for legions of die-hard fans. A group of aliens who have mistaken intercepted television transmissions for "historical documents" arrive at a convention and whisk "Commander Peter Quincy Taggart" and his crew into space to help them in their all-too-real war against a deadly adversary. Get tickets.
September 8: FOR THE LOVE OF SPOCK
For the Love of Spock celebrates the 50th Anniversary of Star Trek through a personal, intimate look at the life and career of Leonard Nimoy, and his alter-ego, Mr. Spock, as told by his son, Adam Nimoy. FOR THE LOVE OF SPOCK filmmaker Adam Nimoy will participate in a Q&A after the screening! Get tickets.
September 15: STAR TREK II: THE WRATH OK KHAN
The Federation Starship U.S.S. Enterprise is on routine training maneuvers and Admiral James T. Kirk (William Shatner) seems resigned to the fact that this inspection may well be the last space mission of his career. But Khan is back. Aided by his exiled band of genetic supermen, Khan (Ricardo Montalban) – brilliant renegade of 20th century Earth – has raided Space Station Regula One, stolen a top secret device called Project Genesis, wrested control of another Federation starship, and now schemes to set a most deadly trap for his old enemy Kirk. Get tickets.
September 22: STAR TREK III: THE SEARCH FOR SPOCK
Admiral Kirk's defeat of Khan and the creation of the Genesis planet are empty victories. Spock is dead and McCoy is inexplicably being driven insane. Then a surprise visit from Sarek, Spock's father, provides a startling revelation: McCoy is harboring Spock's living essence. With one friend alive and one not, but both in pain, Kirk tries to help both by stealing the U.S.S. Enterprise and defying Starfleet's Genesis planet quarantine. But the Klingons have also learned of Genesis and race to meet Kirk in a deadly rendezvous. Get tickets.
September 29: STAR TREK IV: THE VOYAGE HOME
A mysterious alien power is threatening Earth by evaporating the oceans and destroying the atmosphere. In a frantic attempt to save mankind, Kirk and his crew must time travel back to 1986 San Francisco, where they find a world of punk, pizza and exact-change buses that are as alien as anything they've ever encountered in the far reaches of the galaxy. Get tickets.