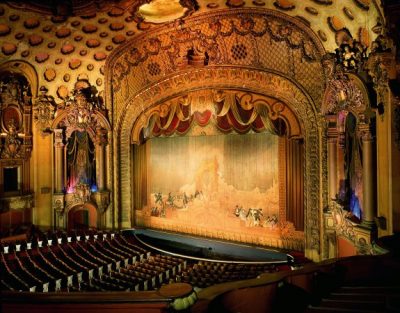 Last Remaining Seats presents a contest straight outta 1986! Enter for a chance to win a pair of tickets to see TOP GUN June 4th at the beautiful Los Angeles Theater in Downtown LA!
Last Remaining Seats is the Los Angeles Conservancy's annual program that combines classic film with L.A.'s historic theatres. Top Gun  is this year's opening film. Visit the L.A. Conservancy's website for the full schedule of screenings.
Top Gun was the highest-grossing film of 1986, due in part to the action-packed aerial scenes that were a huge hit with audiences. It earned both a Golden Globe and an Academy Award for Best Original Song, the unforgettable "Take My Breath Away" performed by Berlin. Top Gun was released thirty years ago in 1986. Not coincidentally, this is the thirtieth annual season of Last Remaining Seats!
Entering the contest is easy. Just fill out the form below to signup for Laemmle's weekly email newsletter. The deadline to enter is 5PM on Thursday, June 2nd. Two winners will be selected and announced Friday morning at 11AM.  Already a newsletter subscriber? Go ahead and re-enter your email address (don't worry, you won't get extra email).

Prizes:
– Two VIP Tickets (reserved seating) to the 2pm screening of Top Gun (June 4)
– Two General Admission Tickets to the 8pm screening of Top Gun (June 4).
This contest is now closed!  Good luck to all entrants.