As a tribute to Omar Sharif, who passed away last month, we present a 50th anniversary screening of DOCTOR ZHIVAGO at 7:30 PM on Wednesday, August 19th at the Royal. Los Angeles Film Critics Association President Stephen Farber will introduce the film.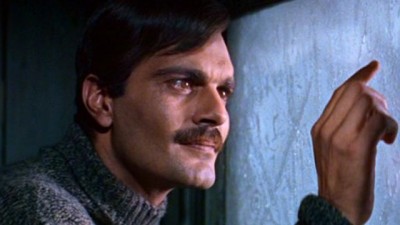 This lush romance directed by David Lean (a two-time Oscar winner) was nominated for 10 Academy Awards in 1965 and won five — best adapted screenplay (by Robert Bolt), cinematography, art direction, costume design, and music (by Maurice Jarre). Nobel Prize-winning author Boris Pasternak wrote the international best-selling novel and, when receipts are adjusted for inflation, the film version is one of the top grossing films of all time. In addition, when the American Film Institute named the 100 greatest romantic films in history, DOCTOR ZHIVAGO finished in the top ten.
Set against the backdrop of the Russian Revolution, Sharif plays the title character, a physician and poet who, although married to someone else, falls in love with another man's wife and experiences hardship during the First World War and then the October Revolution. The film features an all-star cast headed by Julie Christie, Rod Steiger, Geraldine Chaplin, Alec Guinness, Ralph Richardson, Tom Courtenay, and Rita Tushingham, in addition to Sharif, who had been introduced to Western audiences in Lean's Lawrence of Arabia three years earlier.
Sharif went on to star in Funny Girl, The Tamarind Seed, Juggernaut, Monsieur Ibrahim, and many other films. Take advantage of a rare opportunity to see this sweeping romantic epic on the big screen!
Click here to purchase tickets.