One of the most iconic and enduring human structures ever built, Barcelona's La Sagrada Familia is a unique and fascinating architectural project conceived by Antoni Gaudi in the late 19th century.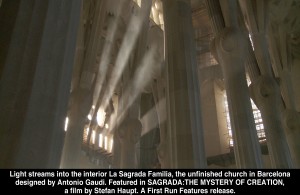 More than 125 years after construction began, the basilica still remains unfinished. SAGRADA celebrates Gaudi's vision and the continuing work of countless laborers, artisans, designers and architects as they strive to complete the colossal project while delving into the mysterious process of artistic creation.
We are opening SAGRADA on Friday, April 3rd at our Playhouse 7 theater.
The BBC just posted this short video about how the Sagrada's architects have been using 3D printing — for 14 years, long before the technology was widely known — in their work:
And here is the trailer for the documentary: