In EFFIE GRAY, actress-screenwriter Emma Thompson portrays the forbidden realms of Victorian society through the true story of the marriage of Effie Gray and renowned art critic John Ruskin, exposing a secret world of unrequited passion hidden behind the veil of an opulent public life. Set in an era when neither divorce nor homosexuality were tolerated, EFFIE GRAY is the story of a beautiful young woman coming of age, and finding her own voice in a world where women were expected to be seen but not heard. Within the lush environs of a world brimming with art, painting, high society and feverishly bucolic scenes of the Scottish countryside, EFFIE GRAY explores the intricate relationship between sexual intolerance, repression and desire which continue to permeate society today. In this impeccably crafted period drama, Thompson delicately and incisively probes the marital politics of the Victorian era, and beyond.
We will open EFFIE GRAY on April 3 at our Royal, Playhouse, Claremont, NoHo and Town Center theaters. Costume designer Ruth Myers, twice an Oscar nominee, will participate in a Q&A moderated by film critic F.X. Feeney following the 7 PM screening at the Royal on Friday, April 3rd.
http://vimeo.com/116435893
KPFK recently aired a terrific interview with the film's producers and composer. You can listen to it here.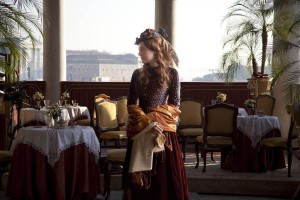 Ms. Myers was brought up in Manchester and trained at St. Martin's School of Art in London, then working at the Royal Court Theatre on a student grant, followed by a year working in repertory before returning to the Royal Court, where she contributed to numerous productions including John Osborne's "Hotel in Amsterdam", "Time Present" and David Hare's "Stag". Her first professional assignment was sewing sequins all night on costumes for the great designer Anthony Powell. During this period, she worked as assistant to the legendary Sophie Devine, who as 'Motley' had created the costumes for many of the early English classic films including director David Lean's "Great Expectations". With her encouragement, Ruth Myers started to design for low-budget English films beginning in 1967 with "Smashing Time" (now famous for its era-defining Mod look), "A Touch of Class," Peter Medak's "The Ruling Class" and The Twelve Chairs". After being persuaded to come to America by Gene Wilder, she collaborated with him on "The World's Greatest Lover," "The Woman in Red" and "Haunted Honeymoon". At that time she also designed for Joseph Losey's "Galileo" and "The Romantic Englishwoman." It was on this film that she met her late husband, production designer Richard MacDonald. As a couple, they enjoyed a dynamic collaboration on films that include Sydney Pollack's "The Firm," Fred Schepisi's "Plenty" and "The Russia House," Norman Jewison's "And Justice For All," Ken Russell's "Altered States", Jack Clayton's "Something Wicked This Way Comes" and Barry Sonnenfeld's "The Addams Family," for which she received an Academy Award® nomination. Since 1993, she has designed more than 30 films, including Curtis Hanson's "L.A. Confidential" (Emmy nomination), Douglas McGrath's "Emma" (for which she earned her second Academy Award® nomination), "Nicholas Nickleby" and "Infamous," Taylor Hackford's "Proof of Life,", Mimi Leder's "Deep Impact," John Curran's "The Painted Veil," "City of Ember," and "The Golden Compass" (directed by Chris Weitz). Her most recent assignments include "Dorian Gray," Terence Davies' "The Deep Blue Sea" and Phil Kaufman's "Hemingway and Gelhorn" (Emmy nomination), "Mortdecai," starring Johnny Depp, with upcoming titles including "Molly Moon: The Incredible Hypnotist."