CicLAvia will make the San Fernando Valley its home on March 22 when Metro Presents CicLAvia – The Valley takes place from 9 AM to 4 PM. The first CicLAvia of 2015 represents the inaugural visit of L.A.'s renowned open streets event to the storied Valley. Participants will be able to travel between North Hollywood and Studio City on car-free streets, using foot, pedal and non-motorized wheel power.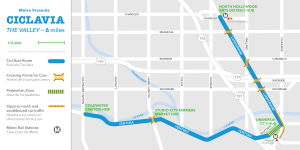 The event runs 5 1/2 miles along Lankershim Boulevard between the North Hollywood Metro Red Line stop at Chandler Boulevard and the Universal Studio Red Line stop, and along Ventura Boulevard between Campo de Cahuenga and Coldwater Canyon. The route will highlight some of the gems of the East Valley including the North Hollywood Arts District, Universal City, the historic Campo de Cahuenga, Studio City Farmers Market and the famed Sportsmen's Lodge.
The Valley route is made possible with a grant from Metro Los Angeles.
New to CicLAvia? Here are four things you need to know for March 22:
It's FREE!
It's not a race and you don't need a bike to participate. You can walk or skate to your heart's content.
There's no beginning or end. You can start anywhere and go as far or as short as you want.
The flow of participants goes both ways, just like regular traffic.
We at Laemmle adore CicLAvia and this is the first time one of our theaters will be right on the route so we're trying something special this time around: See your social media posts on a movie screen! Stop by the Laemmle NoHo 7 during CicLAvia this Sunday to share your CicLAvia photos on the big screen. Simply tag your Instagram and Twitter posts with #LaemmleVia! Sit back with friends, post photos, enjoy some free popcorn, and listen to Valley-related songs. It's all free from 9 AM – 4 PM!
We're located at 5240 Lankershim Blvd. between Weddington and Magnolia.
Park your bike at the Valley's only bike corral right outside the
theater on Lankershim.
Hope to see you there!