Of the major U.S. cities, Los Angeles has the most people living in poverty, twenty-two percent of us.  One consequence, of course, is food insecurity, and the Laemmle Charitable Foundation is working with a great organization called Food Forward to fight this by distributing donated food that would otherwise go to waste. In fact, there is more food donated than Food Forward can handle; they need another truck.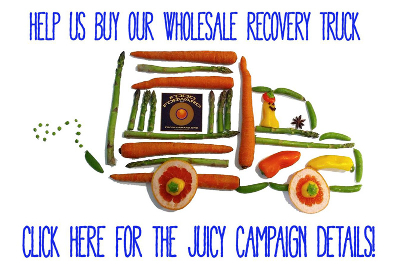 Here is part of an email Food Forward Founder/Executive Director Rick Nahmias sent to Laemmle Theatres President Greg Laemmle this week explaining how we all can help:
"As you may know, this past February, we had a "soft-launch" of our Wholesale Recovery Program.  This new program gathers viable produce donated by vendors from the Los Angeles Wholesale Produce Market and distributes it free of charge to large hunger-relief organizations who it turn distribute it to tens of thousands of people in need every single week. Operating only three days a week with borrowed vehicles, we've been able to rescue over 2 million (yes million with an M!) pounds of 90-100% viable healthy produce in just 5 months.  That's an average of 100,000 pounds per week.
"The crazy thing is we've been offered tons more fresh produce that we've had to turn down because of our very restricted vehicle access. Since the Wholesale Recovery Program exploded, with more power than we or our budget ever anticipated, we hope to raise the $40,000 to purchase a truck that will give this program the legs it needs to run.
"That's where you come in.  We are getting word out to our Fruit Family not to donate but to 
INVEST WITH US
through this, our first ever crowd-funding campaign.  We say invest because the truck will be a gift that keeps on giving – for years to come.  We see this as a wonderful and tangible way for the Food Forward community of amazing supporters to have true buy-in to this incredible Fruitanthropic program. (There's some pretty cool perks we are offering as well.)
"Here's a couple of examples of how people's investment will impact us:
A single $250 donation will allow us to secure one full truckload of 12,000 pounds of produce – at a cost of less than TWO CENTS PER POUND!  This same 12,000 lbs will fulfill the produce needs of OVER 200 food insecure families of four for one week.
The addition of this truck will allow us to go from an average of 6 market runs a week to 12-15 more – in effect doubling our recovery efforts.
Please consider helping out with a donation of whatever you can afford to this worthwhile cause.