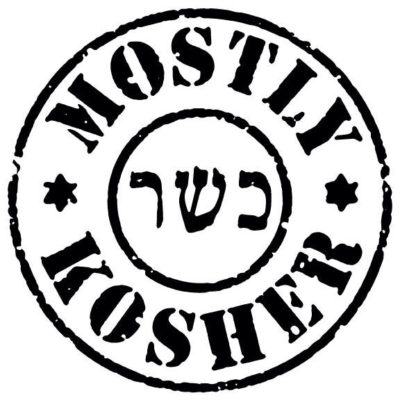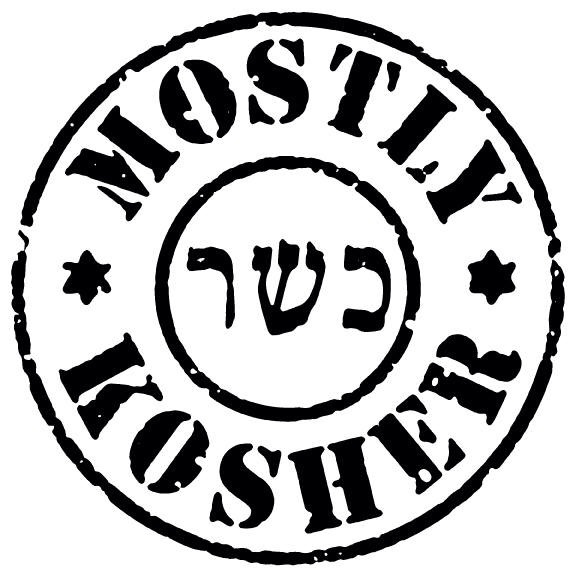 LAEMMLE LIVE presents acclaimed klezmer gypsy-rock band Mostly Kosher, reconstructing Judaic and American cultural music through ravenous klezmer beats and arresting Yiddish refrains. Mostly Kosher is a musical feast that "explodes into a global food-fight of Jazz, Latin, Rock, and Folk."
In response to the poetry and folk music of Judaic roots, their original voice resounds with themes of social justice, human dignity and mutual understanding. Led by frontman Leeav Sofer, one of Jewish Journal's "30 under 30" most accomplished professionals in the Los Angeles Jewish diaspora, Mostly Kosher is comprised of some of the highest regarded Los Angeles musicians: violinist Janice Mautner Markham, drummer Eric Hagstrom, bassist Adam Levy, and on guitar, Will Brahm. Guest artists include Aníbal Seminario, Gee Rabe, Taylor Covey and Lorry Aaron Black on xylophone.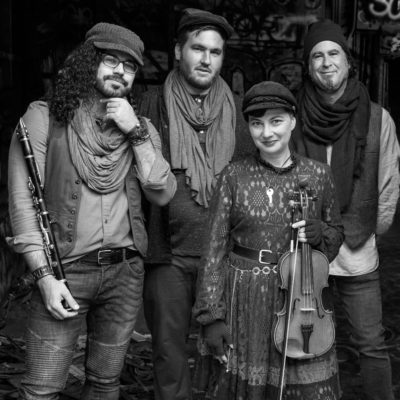 Mostly Kosher is a fixture at renowned Southern California stages such as the John Anson Ford Amphitheatre, Skirball Cultural Center and The Torrance Center for Performing Arts. They have also graced the stage of the Dorothy Chandler Pavilion for a live television broadcast to over half a million viewers in 2015 and once again in 2017. The ensemble has headlined multiple summer festivals such as Silicon Valley Jewish Music Festival, Claremont Folk Festival and more. Mostly Kosher had the honor of being the first Jewish music ensemble at the Disney parks and with 2018/2019 marking their third season performing during the 2-month long Festival of Holidays. Mostly Kosher was credited for "stealing the Festival of Holidays Show" by the acclaimed Fresh Baked Disney podcast. For the 2017/2018 holiday season, Mostly Kosher added Epcot Center in Florida to their list of holiday performance venues, becoming Disney's first Jewish cultural music performed on both coasts.
Staying true to giving back to the community, Mostly Kosher is proud to be teaching artists for Urban Voices Project, performing and educating in underserved areas in and around Southern California including prisons, community clinics and shelters serving men and women suffering from homelessness. Mostly Kosher is also mentor ensemble to the Jewish Youth Orchestra, a project of the Jewish Federation of San Gabriel Valley,  offering performance opportunities and ongoing workshops for the middle school and high school musicians.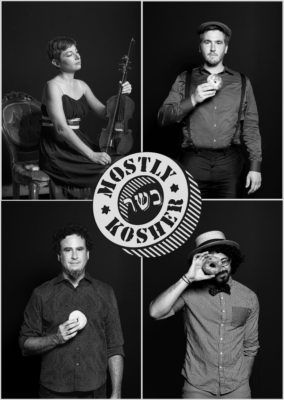 The band's self-titled debut album has won international acclaim by World Music Network, Songlines Magazine, and BBC radio. The first track, Ikh Hob Dikh Tsufil Lib (I Love You Much Too Much), was recognized as one of World Music Network's Top 6 Songs of 2014. Mostly Kosher's music videos have been garnering accolades on the film festival circuit, receiving two nominations at the Idyllwild International Festival of Cinema and Best Music Video at the Glendale International Film Festival. This year Mostly Kosher is touring nationally and internationally through 2020 to support new original music and videos culminating in a full album release. Learn more: mostlykosher.com @mostlykosher
Sunday, May 19, 2019
Monica Film Center
1332 2nd Street
Santa Monica
11am – 12 pm