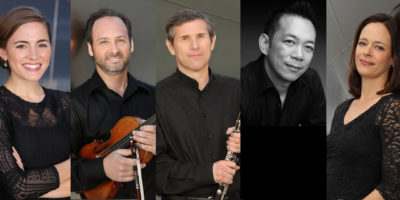 LAEMMLE LIVE proudly presents Los Angeles Philharmonic Musicians: Up Close. An ensemble from the Philharmonic performs Mozart Quintet in A major for Clarinet, 2 violins, viola and cello K. 581.  Guest Host: KUSC Announcer Rich Capparela. David Howard, clarinet, Mitchell Newman and Rebecca Reale, violins, Ingrid Hutman, viola, Timothy Loo, cello.
Violinist Mitchell Newman is a native of Los Angeles and joined the Los Angeles Philharmonic in 1987. After studies with Philharmonic violist David Stockhammer, he attended the Curtis Institute of Music, studying with David Cerone, Yumi Ninomya and Aaron Rosand. Newman is a regular participant in the LA Phil's Chamber Music Society and Green Umbrella series and has had the opportunity to play the Mendelssohn Octet with Joshua Bell, and Thomas Ades' Piano Quintet with the composer playing piano. He has also recorded the music of Eric Zeisl for Harmonia Mundi, and Stories from My Favorite Planet by Los Angeles composer Russell Steinberg. Currently, Newman teaches privately and coaches orchestra repertoire at the Colburn School. Each year he produces, performs, and narrates a concert in English and Spanish for the Los Angeles Philharmonic at St. Thomas Church. Also yearly, he produces and plays a fundraising chamber music concert for Mental Health America Long Beach and was recognized as a Mental Health Hero by the California State Senate. In the summer of 2010, Newman opened Hilltop Boot Camp: Orchestra Audition Preparation for Strings (playdonjuan.com). He also travels to Ensenada, Mexico to work with the students of the Benning Academy, a program that provides instruments and lessons to children of all economic backgrounds. Newman is President of the Board of the Los Angeles Youth Orchestra.
Rebecca Reale born in upstate New York, began studying the violin when she was just two and a half years old. Her passion for music led her to Boston at an early age to attend boarding school for the arts. While she was there, she studied with Muir Quartet member and Boston University professor Peter Zazofsky. She received her Bachelors Degree from Rice University as a full scholarship student, where she studied with Kathleen Winkler. Ms. Reale was a fellow with the New World Symphony for their 2015-2016 season. During her time there, she won the concerto competition and performed Mozart's Violin Concerto No. 5 in A major with the orchestra on a subscription concert. Rebecca was the associate principal second violin of the Houston Symphony, and served as acting principal second for the 2016-2017 season.
Violist Ingrid Hutman was born in Los Angeles and earned her Bachelor of Music degree at California State University Northridge, where she studied with Louis Kievman and Heiichiro Ohyama, the Philharmonic's former Principal Violist. Hutman continued her studies at the Cleveland Institute of Music under the tutelage of the Cleveland Orchestra's Principal Violist, Robert Vernon; she also participated in the Los Angeles Philharmonic Institute during the 1987 and 1988 seasons.Since she joined the Los Angeles Philharmonic in 1991, Hutman has performed regularly with the Los Angeles Philharmonic Chamber Music Society and the Los Angeles Philharmonic New Music Group. She joined the faculty of the Colburn School of Performing Arts in 1997.
Clarinetist David Howard has been a member of the Los Angeles Philharmonic since 1981, when, at age 25, he was hired by then Music Director Carlo Maria Giulini. Over the last few seasons, he has performed and given master classes at international festivals in Tel Aviv, Vancouver, Helsinki, Beijing, London, Stockholm, and Caracas. With the Los Angeles Philharmonic New Music Group, Howard performed as soloist in John Harbison's Concerto for Oboe, Clarinet, and Strings under the direction of the composer; he was also the bass clarinet soloist in Iannis Xenakis' Échange, conducted by Esa-Pekka Salonen. In February 2015 Howard was featured as soloist in the role of the Caterpillar in Unsuk Chin's Alice in Wonderland. Previously, Howard was principal clarinetist with the New Jersey Symphony and the New Haven Symphony. A Los Angeles native, Howard received a B.A. in Russian Literature from Yale University, graduating magna cum laude. Since 1986, he has served on the faculty of the Thornton School of Music at the University of Southern California.
Cellist Timothy Loo joined the Lyris Quartet in 2008. A passionate chamber musician, he founded his first quartet, the Denali Quartet, in 1999 while pursuing his Advanced Studies in Cello with Ronald Leonard at the University of Southern California. As a member of the Denali quartet, he participated in masterclasses with the Julliard, Vermeer, and Takacs Quartets. In 1999, Mr. Loo co-founded Mladi, Los Angeles' conductorless chamber orchestra. He performed with this group until 2008. Mr. Loo has performed in the masterclasses for Yo-Yo Ma, Ronald Leonard, David Geringas, Natalia Gutman, Franz Helmerson, and Bernhard Greenhouse. Mr. Loo has won positions in both Philharmonie der Nationen in Hamburg, Germany, Sarasota Opera Orchestra, and New West Symphony. He has also performed with the Los Angeles Opera Orchestra, New West Symphony, Pasadena Symphony, Santa Barbara Symphony, Los Angeles Master Chorale and is currently the principal cellist of the Long Beach Opera Orchestra, and filled in for cellist Robert de Maine and soloed with the Los Angeles Philharmonic in early 2018.
Event Details
Sunday, April 8, 2018
11:00 am
Monica Film Center
WE ARE SOLD OUT
Email sheryl@laemmle.com
For wait-list information
This is a Free Event
RSVP on Eventbrite