Art in the Arthouse is pleased to present the paintings of Daphne Hill & Anna Stump at the Monica Film Center.  The exhibit runs through May, 2017.
About the work:
Successful collaboration in the world of painting is quite a rare phenomenon. The duo of DAPHNE HILL and ANNA STUMP, known for their breathtaking floral compositions, have nourished a unique and productive partnership. In a kind of creative symbiosis they appear to "finish each other's sentences" on the canvas, layering each piece and editing each other to create new forms.
Stump comments, "Our painting process is so egoless because we can't [as individual artists] get attached to anything we do." Hill confirms, "We never call the piece finished unless we're both happy with it."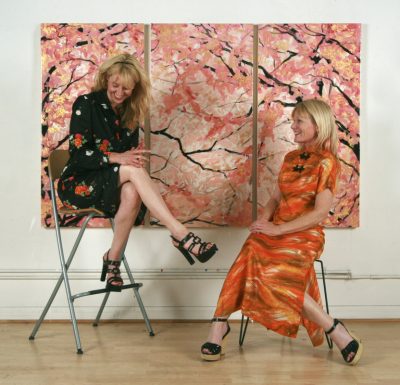 Their work includes nods to Rococo foliage, gilt decoration, Japanese motifs, and Impressionism. Artists such as JAKUCHU, FRAGONARD and SARGENT, as well as the light and spectacle of the Southern California landscape serve as inspiration.
In this exhibit, curated for Art in the Arthouse by Tish Laemmle, the magic of the flower is utilized as a vehicle for light and form to express itself. Nothing is overlooked. Whether realized or abstracted, each individual mum, magnolia, cactus blossom, or other gem gets its due, while the presence of gloss resin delightfully brings certain elements to life.
The pair work together in their studio in San Diego, and also maintain a space in the El Sereno neighborhood of L.A. Both are involved in the community, acting as instructors for studio and art history courses in the local college district.
Critic's reviews:
KCRW (2015)