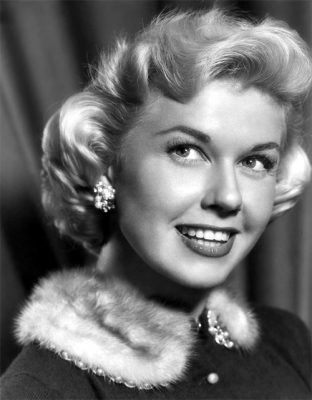 Laemmle's Anniversary Classics presents a tribute to Doris Day, one of the last surviving stars of Hollywood's Golden Age. Day was the number one female box office star of the 20th century, but she was sometimes underrated as an actress. She excelled in musicals, comedy, and drama and during the 1950s and 60s she was one of the few actresses who regularly played working women. We offer a double feature of two of her most popular films, the 60th anniversary of Alfred Hitchcock's The Man Who Knew Too Much (1956) and the 55th anniversary of Lover Come Back (1961).
So you won't miss any of the fun, the Doris Day double bill plays at three locations: the Royal in West L.A., Laemmle NoHo 7, and the Playhouse 7 in Pasadena on Monday, August 29. We will have trivia contests with prizes at all three locations.
Click here to buy tickets to the 4:30PM Lover Come Back (includes admission to the 7PM The Man Who Knew Too Much).
Click here to buy tickets to the 7PM The Man Who Knew Too Much (includes admission to the 9:30PM Lover Come Back).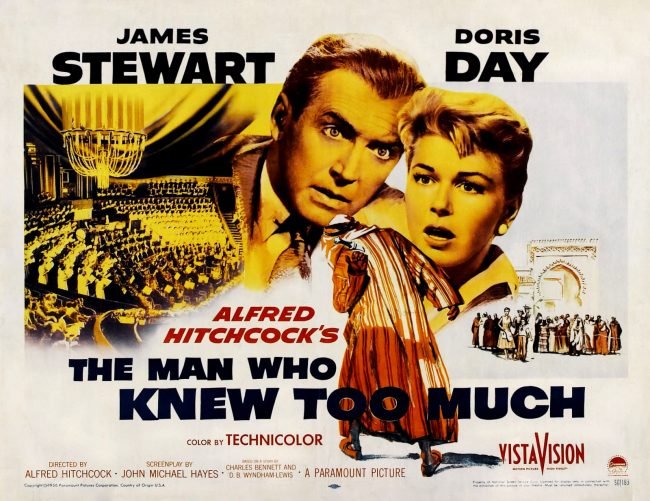 In The Man Who Knew Too Much one of Doris Day's rare forays into the thriller genre, the actress introduced one of her most successful songs, the Oscar-winning hit, "Que Sera Sera." But she also demonstrated her versatility in several harrowing and suspenseful dramatic scenes. She plays the wife of one of Hitchcock's favorite actors, James Stewart. The movie was a box office bonanza for all parties. Hitchcock's success during the 1940s allowed the director to employ bigger budgets and shoot on location for several of his Technicolor thrillers in the 1950s, including To Catch a Thief, Vertigo, and North by Northwest. For The Man Who Knew Too Much, a remake of his own 1934 film, Hitchcock traveled to Morocco and to London for some spectacular location scenes. In his famous series of interviews with the Master of Suspense, Francois Truffaut wrote, "In the construction as well as in the rigorous attention to detail, the remake is by far superior to the original." The plot turns on kidnapping and assassination, all building to a concert scene in the Royal Albert Hall that climaxes memorably with the clash of a pair of cymbals.

Lover Come Back was the second comedy teaming of Doris Day with Rock Hudson, on the heels of their huge 1959 hit, Pillow Talk. Day and Hudson play rival advertising executives who vie for an account that doesn't exist, dreamed up by Hudson to throw Day off the track, further complicated by their romantic entanglement. Screenwriters Stanley Shapiro (who won an Oscar for 'Pillow Talk') and Paul Henning concocted a witty scenario with deft sight gags, targeting the influence of Madison Avenue in the era, and their original screenplay was Oscar-nominated in 1961. Day, Hudson, and a winning supporting cast including Tony Randall, Edie Adams and Jack Kruschen are all at the top of their game, nimbly directed by Delbert Mann. The New York Times' Bosley Crowther raved about "…this springy and sprightly surprise, which is one of the brightest, most satiric comedies since 'It Happened One Night.' The Times also celebrated the box office smash as "the funniest picture of the year."