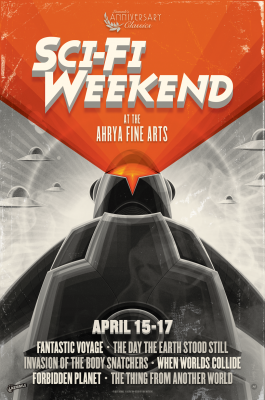 Re-visit the Golden Age of the Science Fiction Film as Laemmle Theatres and the Anniversary Classics Series presents SCI-FI WEEKEND, a festival of six classic films April 15-17 at the Ahrya Fine Arts in Beverly Hills.
It was dawn of the Atomic Age and the Cold War, as Communist and nuclear war paranoia swept onto the nation's movie screens to both terrify and entertain the American public. All the favorite icons are here: Robby the Robot from FORBIDDEN PLANET, the pod people from INVASION OF THE BODY SNATCHERS, the blood-seeking creature from THE THING FROM ANOTHER WORLD, and so much more.
Schedule:
Tickets:
Tickets for individual shows are available NOW on Laemmle.com & at the Ahrya Fine Arts box office:
Single film Ticket: $13
Premiere Card Holders (Single Ticket): $12
Anniversary Classics Sci-Fi Weekend Ticket Specials (Available only at Box Office):
6 Admissions for $48 (For any Sci-Fi Weekend Film 4/15-4/17)
Saturday Triple Bill: $30 (Ticket to 3 Saturday 4/16 films)
Sunday Double Feature: $20 (Ticket to 2 Sunday 4/17 films)
Trailer:
Movies: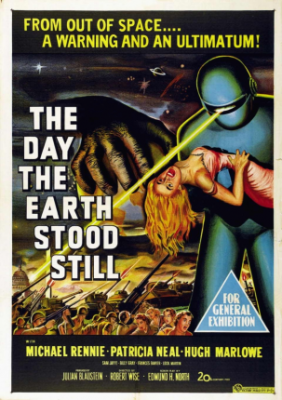 THE DAY THE EARTH STOOD STILL (1951) – 65th Anniversary
"Klaatu barada nikto": One of the most famous phrases in all science fiction was first uttered in The Day the Earth Stood Still, which cast its spell over audiences in September 1951, in the early years of the Cold War and Atomic Age. This tale of a humanoid alien visitor (Michael Rennie), with a message and ultimatum for the human race, was directed by Robert Wise from a screenplay by Edmund H. North, and featured a memorably eerie score by Bernard Herrmann. Also starring Patricia Neal, Hugh Marlowe, and our special guest, Billy Gray, the only survivor of the cast and crew. Gray, who is also well known for his role in the classic 1950s sitcom Father Knows Best, will appear at the 65th anniversary screening on opening night of the Anniversary Classics Sci Fi Weekend, April 15-17. (April 15 at 7:30 PM)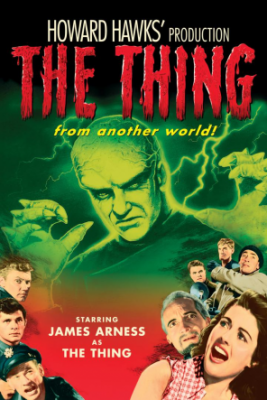 THE THING FROM ANOTHER WORLD (1951) – 65th Anniversary
More scares are in store when we screen the classic hybrid of science fiction and horror, The Thing from Another World. This film tells of an alien invasion of a more malevolent kind, when a research outpost in the Arctic is threatened by a thawed-out creature from outer space (James Arness) discovered in the ice. Directed by Christian Nyby (but with significant contributions by producer Howard Hawks), with a screenplay by Charles Lederer and an uncredited Hawks and Ben Hecht. Also stars George Tobey, Margaret Sheridan, Douglas Spencer, and Dewey Martin. Audiences of the day were told, "Keep watching the skies!" That warning resonated throughout the 1950s, as Hollywood continued its fascination with science fiction films exploiting Cold War fears. (April 16 at 2:30 PM)
WHEN WORLDS COLLIDE (1951) – 65th Anniversary
Earth is on a collision course with a rogue star called Bellus in this popular sci-fi adventure produced by master of the genre, George Pal, and directed by Rudolph Mate. The only hope for humanity is to build a spaceship—a futuristic version of Noah's Ark—to carry select survivors to a remote planet. But who will select the lucky travelers? The provocative film won the Oscar for best visual effects and was also nominated for best cinematography. Starring Barbara Rush, Peter Hanson, and Larry Keating. (April 16 at 5:00 PM).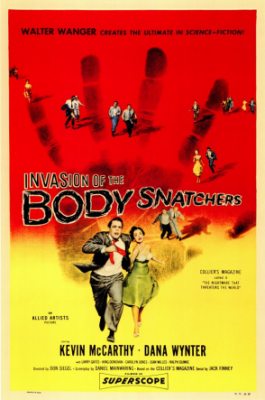 INVASION OF THE BODY SNATCHERS (1956) – 60th Anniversary
Pauline Kael called this low-budget effort "a B-picture classic." Among the most widely imitated of all sci-fi movies, this terrifying thriller imagines a future in which sinister pods from another planet are taking over the souls of people on earth and turning them into dehumanized automatons. Don Siegel directed a cast that includes Kevin McCarthy, Dana Wynter, Carolyn Jones, and Larry Gates. Adapted from a magazine piece by noted fantasy writer Jack Finney. (April 16 at 7:30 PM).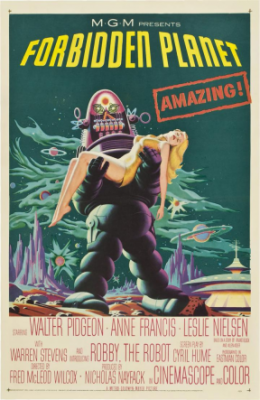 FORBIDDEN PLANET (1956) – 60th Anniversary
Filmed in Cinemascope and color, this sci-fi classic takes place in the 23rd century, as an expedition from earth travels by spaceship to a distant planet on a rescue mission—a reversal of the alien invasion films made earlier in the decade. The picture was directed by Fred M. Wilcox, with a screenplay by Cyril Hume that was very loosely based on Shakespeare's The Tempest, and the cast includes Walter Pidgeon, Leslie Nielsen, Anne Francis, Richard Anderson, and Earl Holliman, along with the iconic Robby the Robot. Unlike the silent menace of Gort, the robot from The Day the Earth Stood Still, Robby the Robot (a futuristic counterpart to Shakespeare's Ariel) is a benevolent and fully integrated member of the cast. The groundbreaking electronic music score is by Bebe and Louis Barron, and the striking sets were designed by legendary art director Cedric Gibbons, designer of the Oscar statuette. (April 17 at 2:30 PM)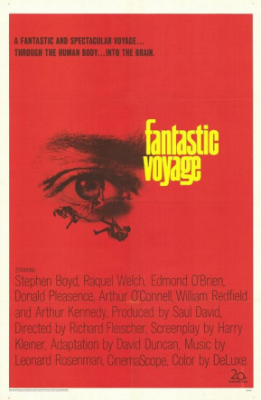 FANTASTIC VOYAGE (1966) – 50th Anniversary
Unlike other sci-fi movies that take their characters to distant galaxies, this ingenious fantasy centers on a group of scientists and doctors who must be miniaturized in order to travel inside the human body. The film won two Oscars—for art direction and special visual effects. The all-star cast includes Stephen Boyd, Raquel Welch, Edmond O'Brien, Donald Pleasence, Arthur O'Connell, Arthur Kennedy, and James Brolin, under the direction of veteran Richard Fleischer (20,000 Leagues Under the Sea, Compulsion, The Vikings). Leonard Maltin called this box office hit "tremendously entertaining." (April 17 at 5:00 PM)
Special Guests to appear throughout the weekend!